The Redknapp Deception
In the first post on the Football Cynic blog, Ashley Escobar takes a look at Tottenham manager Harry Redknapp and asks whether his media persona covers up his managerial inadequacies?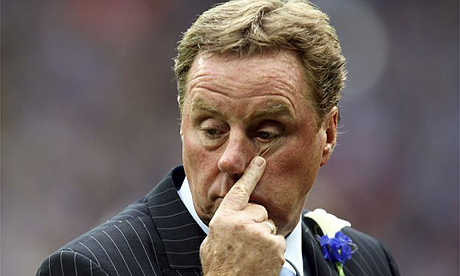 "Whether it is 4-4-2, 4-2-3-1, 4-3-3, the numbers game is not the beautiful game in my opinion.

It's 10 per cent about the formation and 90 per cent about the players. If you have the best ones and they do their jobs, then they can pretty much play any way you want them to."- Quotes taken from RedCafe.net
Those were the words of Harry Redknapp, talking about football tactics in a column he writes for a newspaper. Redknapp has a well established media persona of being a lovable rogue, like Del Boy from Only Fools and Horses. Whilst this carefully nurtured persona has served him well over the years, it is my opinion that it has also covered up some of Redknapps' poor decision making (both tactical and in general) as well as his mistreatment of players, particularly those he has little faith in.
Redknapps' "tactics" are a point of contention amongst various people. Some believe Redknapp is quite sharp tactically, and nurtures this idea of a lack of tactical intelligence in order to play the "lovable fool" to his media chums. Others, like me, view Redknapp as a tactical throwback to the days where managers asked players to go onto the field and just play football. As Rafael van der Vaart, the Tottenham player, once told a newspaper "There are no long and boring speeches   about tactics, like I was used to at Real Madrid. There is a clipboard   in our dressing room but Harry doesn't write anything on it". Redknapps' lack of tactical acumen was best exposed in the first leg of Tottenham's champions league matches against Real Madrid. With Aaron Lennon pulling out of the match minutes before the start, Redknapp decided to start Jermaine Jenas, a central midfielder and a vastly different style of player from Lennon, in midfield, moving his most influential player, Gareth Bale, over to his weaker right side where he had no effect in the opening half of the game. When Redknapp finally decided to move Bale back onto the left, it caused Real a few problems but not enough to rescue a game that was already lost at that point. Whilst the defeat cannot be totally put down to Redknapps' decision to start Bale on the right-Peter Crouch's stupidity must also be taken into account-Redknapp, one hopes, had an idea of what he wanted his side to do before finding out that Lennon was unable to take the field. By dramatically changing his sides approach in such a manner, he put his team on the back foot moments before the start of a massive game.
Redknapps' treatment of players is another issue that I feel does not get enough media attention. Whilst his bond with players such as Jermain Defoe (at least until his recent injury) and Peter Crouch (at least until he stopped scoring) is often played up in the media, his treatment of players such as Roman Pavlyuchenko and, more famously, Darren Bent, often gets overlooked by those who prefer to foster the idea that Redknapp is a "great man manager". The Bent saga is well publicised so requires little explanation but Redknapps' treatment of Pavlyuchenko is something that borders on a personal grudge. Statistically, Pavlyuchenko compares favourably with Crouch and Defoe. In his three seasons at Tottenham, Pavlyuchenko has scored 37 goals in 73 games. This is the same number of goals as Defoe has scored in his three seasons at Tottenham (though in 64 games) whilst Crouch has only managed 24 in his two seasons at Tottenham in 67 games.
Tottenham's switch from a 4-4-2 to a 4-4-1-1 also creates a situation, you would think, where Pavlyuchenko would be afforded more games starting as, compared to Crouch and Defoe, his attributes are more suited to a lone striker. Redknapp has, though, persisted with other options, preferring to start Crouch (4 league goals this season) and Defoe when fit (4 league goals this season) over Pavlyuchenko who is Spurs' top scorer in the league this season with 9. Redknapp often criticises Pavlyuchenko's work rate, often suggesting the striker does not run around enough. In a thinly veiled attack on the striker he once said "I need people who are going to work, I want to see people who are going to work and that's what I changed when I came to Tottenham". Whilst Redknapps' criticism of Pavlyuchenko cannot be dismissed-managers are entitled to demand a certain degree of commitment on the pitch from their players-Redknapp often chooses to overlook Pavlyuchenko's effectiveness in front of goal, often to the detriment of his own side. Considering most of Pavlyuchenko's games have come from being a substitute, his goal record is perhaps even more impressive when compared with Redknapps' "favourites".
Whatever your opinion of Harry Redknapp is, whether you're a supporter or not, one thing must always stay constant. Redknapp is a capable football manager, as shown by him taking Tottenham to fourth place and into the champions' league. However, if you read the articles of certain journalists, it is easy to form the idea of Redknapp being a demigod, a football manager comparable to greats such as Saachi, Lippi, hitzfeld and Ferguson. I simply do not believe this is anywhere near true and hope this blog as gone some way to explaining why Harry Redknapps' media persona covers up his managerial deficiencies.